The meeting of the Joint Standing Committee of Experts on Re-Demarcation of the Nigeria-Niger International Boundary held at Barcelona Hotel, Abuja, from the 10th to 12th January 2023. The meeting had in attendance the Director-General of the National Boundary Commission, the delegation of Niger, which was led by the Permanent-Secretary of Niger Boundary Commission, the Deputy Secretary-General of the Nigeria-Niger Joint Commission for Cooperation (NNJC), the representative of the Honourable Minister of Foreign Affairs and officials from other relevant Government agencies.
The meeting was organized to assess the progress report on the level of implementation of the resolutions of the previous Meeting of Experts held in 2021 in Niger Republic and to plan for the year 2023 programme of activities.
At the meeting, the Director-General of National Boundary Commission, Surv. Adamu A. Adaji disclosed that the Nigerian Government and the Republic of Niger had re-constructed 128 pillars out of the inherited 148 pillars that demarcate the boundary. He said this was to maintain socio-economic integration and security along the boundary corridor.
The Head of Delegation of the Niger Republic, Engr. Balla Pate, noted that Niger Republic is working towards realizing the African Union goals on Cross-Border Cooperation which was aimed at promoting cross-border cooperation at the local, sub- regional, and regional levels. Speaking at the Meeting, the Deputy Secretary General of the Nigeria-Niger Joint Commission, Honorable Adamou Namata, informed participants that the Nigeria-Niger Border is the only border which has not recorded armed conflict. He gave an assurance that the border communities of both countries would continue to witness peace and their security will continue to be prioritized.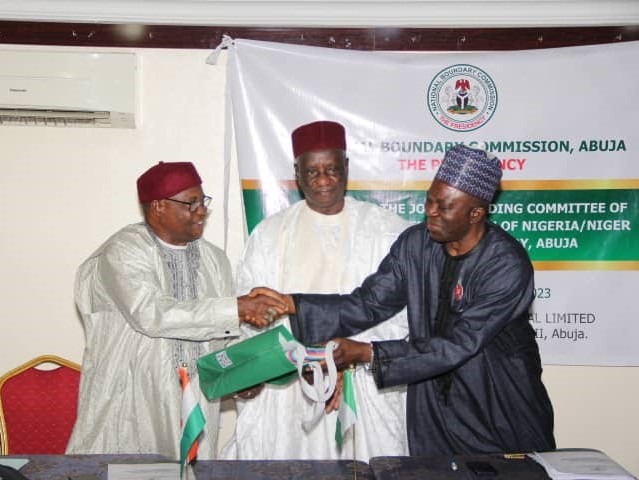 Department of International Boundaries
13th January, 2023